10 Best Fake Email Generator Websites and Apps 2020
Hiding privacy during using the Internet OR hiding personal information on internet is very important factor to be safe in online platforms.
Using Fake Email or Temporary email is one of the best way to hide your personal email.
In this article, we are going to provide you best Fake Email Generator tools that will help you to overlap you real identity.
A list of Temporary Email Generator websites and Android Apps all given below if you want to explore only Fake Email Generator Website and Apps You can jump to the main point.
We are talking about "Privacy", You should check our previous article "Best Free VPN For Desktop and Android" this will help you to browser Internet anonymously. Lets come to the main point.
Disposable email – Fake E-mails is a service that allows users to receive an email at a temporary address.
Temporary E-mails are self-generated and self-destructed after a certain time elapses.
Many forums, Wi-Fi owners, websites and blogs ask visitors to register before they can view content, post comments or download something.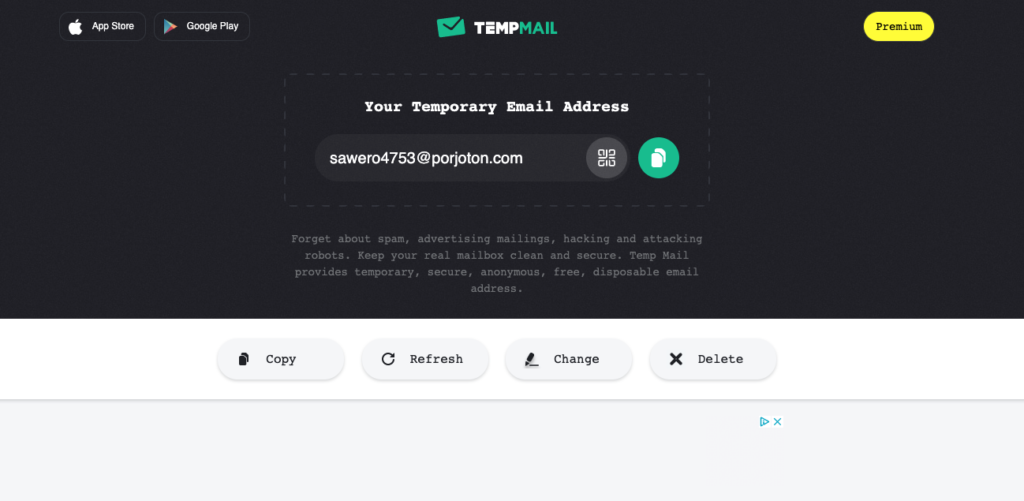 Disposal Emails are a very helpful and the most advanced way that helps you avoid spam and stay safe.
Why you should use Fake Email?
There can be many reasons to use fake emails or temporary emails. But here i have mentioned the main reasons to use Fake Emails.
1. If you are a geek or a normal internet user, and you often visit many websites than most websites allow you to enter to the site only after creating an account.
In many websites, They offer something special like books and secrets when you join to their newsletter.
You shouldn't use your personal Gmail / email on any unknown sites ( never use your personal email on a site that hasn't SSL means the site have HTTP on url and doesn't have HTTPS)
2. After creating any site with your personal email they have your data, so Site can starts sending you promotional and paid emails.
You'll get bulk of promotional emails if the site isn't trusted. Your important emails can be lost in the crowd of bulk emails.
If a site isn't trusted then they can sell your data to other marketers.
To stop happening this, you should use Fake Emails.
3. To use multiple accounts on the same website or app, you can use Fake Emails.
Such as Facebook, Instagram, Twitter can be created by multiple times using fake emails.
4. To get the benefits of offers and deals you can also use fake emails.
Shopping websites or Apps give offers and deals to users on every event or festival. To grab such kind of offer multiple times you can use fake emails.
Privacy is the main reason for using FakeEmail and this is the most recommended by me also.
You should create fake accounts if you don't want to expose yourself.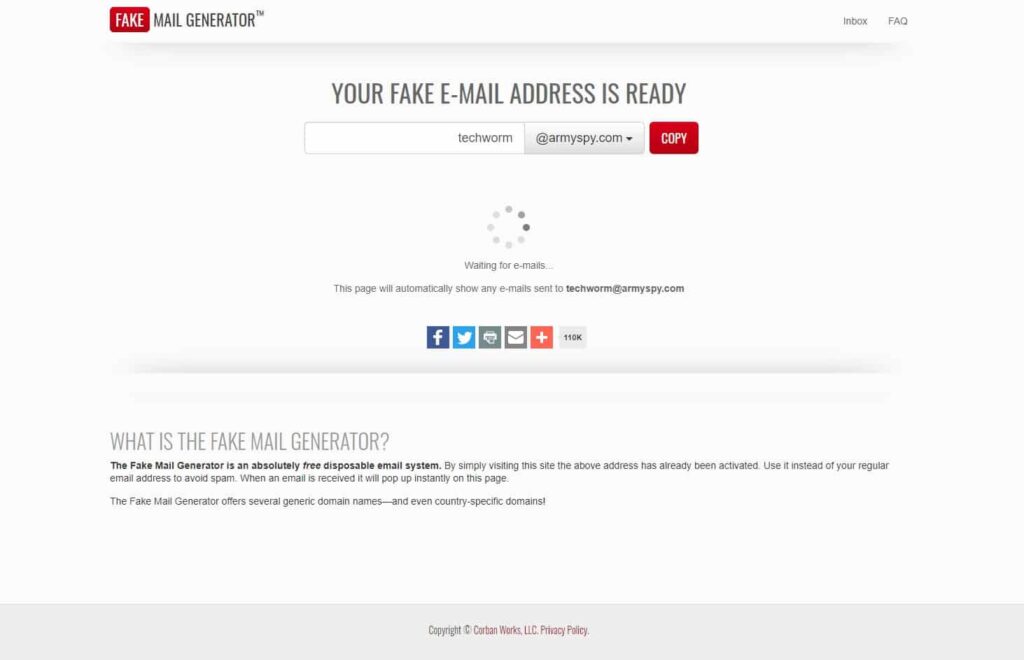 Fake Email Generator 2020 (Free)
1. Temp-Mail
One of my Favorite Website to create Fake Emails.
TempMail is the oldest Disposable email provider in this online field.
Tempmail allows to receive email at a temporary address that self-destructed after a certain time elapses.
Tempmail was also known by its many names like tempmail, 10minutemail, throwaway email, fake-mail or trash-mail.
If you are visiting any forums website, websites, and blogs and these are asking you for an account.
Use this TempMail to generate a temporary email, so that you can view content, post comments or download something without providing an actual email id.
Temp-Mail – is the most advanced throwaway email service that helps you avoid spam and stay safe. Feel Free To use it.
How to Use Temp-Mail Website?
TempMail is very easiest tool and it doesn't require to have technical knowledge. Just follow the simple steps given below.
1. First of all visit Temp-Mail.Net to get a temporary email address for your ip.
2. After coming to this site you will be able to see a temporary email address on your screen with the random domain.
3. Copy the Email address and use it where you want. You can use it anywhere to create an account.
4. If you are creating an account using this email than you will receive OTP or Email Verification Link.
5. Scroll down and you will see a box where you can get all the received mails here. Just click to open and Verify your account.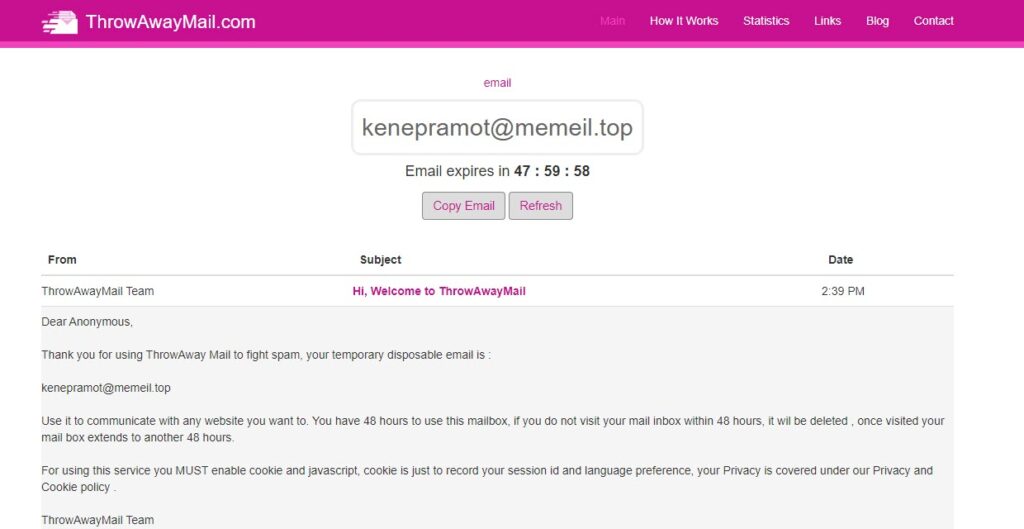 6. This site automatically refresh in every 5 seconds so you dont need to press refresh button every time.
So this how you can Bypass Email Verification using Temp-Mail Org.
Temp-Mail.Org comes with Free and Paid Subscription.
You dont need anything to use its free version. But If you want to use advance features than you should go with its premium subscription.
Features of Temp-Mail:
– hide yourself from spam
– No registration is required
– Easy Copy to clipboard button
– Generate temporary disposable email
– Protect your privacy and anonymity by not allowing spam in your personal inbox.
– Quickly delete and/or generate new email addresses
– Receive multiple or single attachment(s) which can be downloaded from email
– Multi-language
– Emails are constantly being securely deleted forever.
What you will get on a premium Subscription?
100% Private email addresses with full control and ownership
– Multiple mailboxes/addresses with simultaneous usage
– Access to a special list of premium domains
– Extended storage time for email messages
– Seamless cross-platform functionality
– Mobile apps with Premium for Android or iOS
– Full synchronization between Desktop/Web and Mobile
– No ads on desktop and mobile
– Premium support service
– Bring your own private domain.
– Send, reply, and forward to real email.
Temp-Mail App For Android 2020
Temp-Mail Android is also available in Google Play Store.
Using Temp-Mail app, you can instantly generate disposable temporary email address and immediately receive emails, including photos or any other attachments.
Another Awesome Website to get Temporary Emails. FakeMail is a website which is providing Fake Mail Address for free.
FakeMail.Net also known by their second name TempMailAddress.
With TempMailAddress / FakeMail, temporary mail creation has become easy. It provides Temporary Mail Address with very easy interface as it doesn't require technical knowledge get maximum satisfaction from using the service.
There are a lot of websites and apps out there which will bring you disposable email addresses.
You can easily generate a temporary email through them with a small life span. But FakeMail provides with Long Life span.
The given temporary email lasts for 60 minutes, before it gets deleted.
With TempMailAddress / FakeMail, you are given a unique temporary mail which will span for 60 minutes. With this time frame, the user can utilize the temporary email before it gets deleted.
With 2 easy steps you can use this Tool to get your disposal Email Address.
1st Step : To fill Captcha
2nd Step : To Click On "Get Mail" button
Open Email On Deck on your chrome browser. You will see a Captcha Box, Solve Captcha and than click on "Get Mail" button.
You will see a mail address with random domain.
You are now ready to use that mail address anywhere to create your account. Just refresh every time to view received mails.
Do you want to send anonymous mails?
Email On Deck allows to send Anonymous mails to anyone and this one of best feature to be secured. But the thing you need is a premium account to send anonymous mail.
With Free Account, You can only send private mail to same mail address that have same domain.
To send Anonymous Mail to any mail address you need to subscribe. More advanced features you will get on premium Subscription like :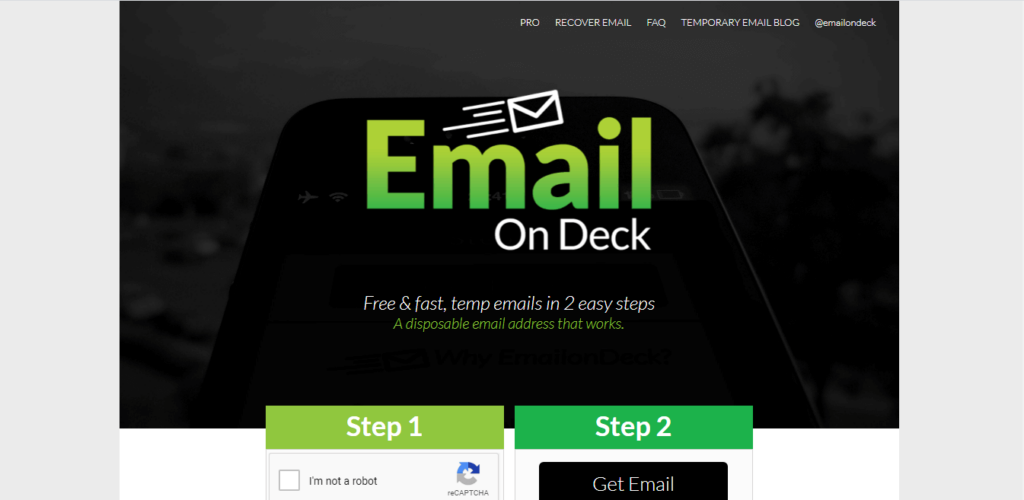 Ad FREE
100+ emails at a time
Send Anonymous Emails
Custom Email Address
Save Email Addresses
Exclusive Domains
New Features First
Private Emails
Logs Securely Wiped
No Recurring Charges.
Fake Email is another tool to get disposal Email Address. It doesn't required any login/signup process to use this. Just open website and at starting screen you can see you email.
EmailFake Tool provides fake emails with lots of fake Domains. All emails are displayed on this page automatically and instantly and valid upto uptime 79 days before they expire.
It also provide to use you custom email box. Where you can select a domain for more long time and this process required DNS management.
Email-Fake is a 2nd tool of EmailFake.com as we have seen in above. Both tool are owned by same person.
Fake-Email is another tool to get disposal Email Address. It doesn't required any login/signup process to use this. Just open website and at starting screen you can see you email.
You can use as many email accounts as you need any time.
Fake-Email is public service so Email you are viewing can be transferred to other person too and Messages are stored on the server until someone deletes them, so it has provided an option to remove message. By using that you can remove any messages you received.
You do not need to register new mailboxes. Mailbox is created automatically when on it comes a letter.
6. TempMailGen
If you are searching for a TempMail alternative than this can be a good one. By Appearance, this sote totally looks like TempMail
Forget about getting your personal email id leaked into bad guys. Tempmailgen provides Temporary, secure, anonymous, free ThrowAway mail with a disposable email address.
You can generate Lifetime temp email and you can use it anywhere to create your account.
Features of TempMailGen :
Easy to use use to a user you can create an unlimited number of fake mailsQuick in action.Always ready to bypass email verification.
24×7 live. Lifetime Email GeneratorSafe to use Their teams have 10 year+ of experience in this temporary email industry.Looks like tempMail. (Temp Mail Alternative).
7. 10MinuteMail.com
By visiting on the link given above, you will be get a temporary e-mail address. Any e-mails sent to that address will show up automatically on the web page.
You can read them, click on links, and even reply to them. The e-mail address will expire after 10 minutes.
10MinuteMail is a secure temporary e-mail service. This means that it lets you have a private e-mail address that anyone can send e-mail to.
Features of 10MinuteMail :
Easy Interface make it easy to understand
Free to use
You can create unlimited number of fake mails
Quick in action
Always ready to bypass email verification.
24×7 live.
Lifetime Email Generator
Safe to use
No registration is required.
After your e-mail address expires, all of your e-mail is deleted, and the address itself stops working a minute later.
Unlike many similar temporary e-mail services, 10MinuteMail is built around privacy and security.
You get a private unique e-mail address that no one else gets. You are the only person who can see that e-mail's inbox. No one else can see your e-mail. Period.
CrazyMaling's layout is not so professional but service is awesome and i have personally used this.
If you don't want to reveal your real email address try this temporary disposable email address for 10 minutes will become a solution of these problems.
Their service allows you to create quick temporary email address for 10 minutes their service available without registration.
Disposable email addresses exist for a short period of time so you have to use it within 10 minutes after generating.
Features of CrazyMailing:
Service is outstanding.
Allows to create unlimited social account like Facebook.
Free to use
You can create 20 disposable email in 1 account.
Quick in action
Always ready to bypass email verification.
24×7 live.
Lifetime Email Generator
Safe to use
No registration is required.
1 account and 20 email addresses!
10. Tempail.com
This is our last Fake Email generator website from our list. Similar to other website this also provide temporary emails for free.
Their lots of child website are also available in different countries you can find on footer of this website.
Names of Fake Email Generator websites are so confusing for lots of peoples but don't go with names, all the website given above have similarities on working.
Related FAQs
1. Why would i use 10minutemail?
There is several reasons you can find here to use a Fake Email. We have already mentioned many reasons above.
Such as :
1. Lots of website, blogs, or forum websites allow user to download somthing or commenting on post only afyer creating a account there.
If you use use your personal mail address there. They can sent you fake and promotional mails.
2. To hide your personal identification, you can use fake mails.
3. To create multiple accounts.
4. To create multiple social accounts, you can use this.
2. Can you recover an e-mail i lost, or got sent after the 10 minutes were up?
No, You cannot recover mail that is expired. Disposable mails mean temporary mails which works only for 10 minutes after creating. This is different things for Websites like FakeMail.net and EmailFake.com. It allows for more than 10 minutes.
3. Is fake emails safe?
Generally, Fake emails and Fake email Generator tools are safe. (Mostly we have recommended above).
You can use it for temporary works or spam works.
But dont use it for you important work. You will lost your email after 10 minutes.
Conclusion
Fake Emails are very important nowadays. You can be hacked, Scammed or you can lost your privacy if you are using your personal email in unsecured website.
Privacy is an important thing in this digital world and you shouldn't ignore this. Email Spoofing and Phishing scams are growing day by day.
You should you use Fake Emails instead of using personal mail to be secured.
Fake Email Generator tool should have safe and free to use. Above we have mentioned 10 best Fake Email Generator Tools for you, Pick any ome from above to start creating accounts.